Dusshera Gymnastics Camp 2022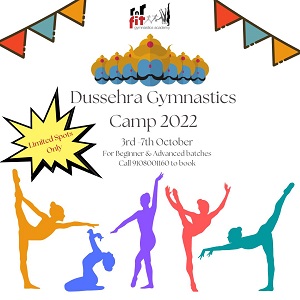 At RnR fit we focus on physical, mental, and social development. Gymnastics exercises, such as learning how to do a cartwheel, offer a variety of benefits that go well beyond the gymnastics mat. Come join us at camp. Master your cartwheel, learn how to hold a handstand and enjoy this wonderful sport of gymnastics.
Date: 3rd to 7th Oct 2022
Time: 9 am to 11 am
Our knowledgeable Gymnastics instructors have compiled a list of the top benefits of learning how to do a cartwheel.
IMPROVES STRENGTH
When you learn how to do a cartwheel, you're improving key areas including strength, mobility, coordination, and agility.
A cartwheel may appear simple, but it requires the use of several different major muscle groups. When learning how to do a cartwheel, you need power and strength in these major muscles groups in order to carry momentum through the full execution of the cartwheel.
A cartwheel builds strength in your arms, shoulders, legs, and core. The more you practice doing cartwheels, the more strength you'll build.
GYMNASTICS HELPS IMPROVE BALANCE
Gymnastics requires substantial balancing skills. Learning the proper technique and how to do a skill correctly, requires you to have full control over your muscles, a great deal of balance to avoid falling. A strong core is especially important for ensuring you have balance and coordination.
Practicing handstands, either freestanding or against a wall, will help increase your balancing abilities and prepare you for many gymnastics skills.
Many gymnastics skills can increase circulation to your upper body and relieve pressure on your feet and legs while stretching your diaphragm. Eg A proper cartwheel improves blood flow and airflow to your lungs.
Our programs are conducted by certified instructors. Their guidance facilitates growth and guides each gymnast through a variety of exercises and activities. Our gymnastics coaches create an environment where participants can develop, improve and foster healthy and active habits.
Learning gymnastics skill requires a great deal of listening and following instructions. Gymnastic exercises are an exceptional way to teach children how to listen, follow directions, commit to the task at hand and concentrate in order to achieve milestones in a fun environment.
Being introduced to gymnastics from a young age will help your child both on the gymnastics mat and throughout their lives.
CALL US AT +91 9108001160 TO SIGN UP FOR DUSSHERA GYMNASTICS CAMP AT RNR FIT